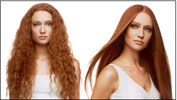 What is thermal straightening?
The process of permanently straightening excessively curly or wavy hair while leaving it in optimum condition. This is a fabulous alternative to daily struggle with unruly hair. The system incorporates Vitamin B5, Soy Proteins and Keratin Amino Acids to give you smooth, shiny, healthy hair.
How long can I expect the service to last?
Thermal straightening is a permanent service, therefore the hair will remain straight until it grows out.
This is a 4-6 hour process with a cost of $400-$600 that will be determined during your complimentary consultation. We will then ask for a 50% down payment after your consultation. This down payment will not be refunded if you simply do not show for the service.
Call today to make your appointment! (813) 963-1313